Every hostess with the mostess knows the importance of a well-stocked bar. Especially around the holidays, you never know when you might receive an unexpected visitor!
Stocking a bar is slow process, as my roommate and I are discovering. Sure, you could go out and buy everything you need all at once, but I can't even image how expensive that would be. Plus, it's fun to find little objects every now and then to add to your collection! I love scouring antique and flea markets for one-of-a-kind pieces.
Below are some of my favorite choices for a home bar...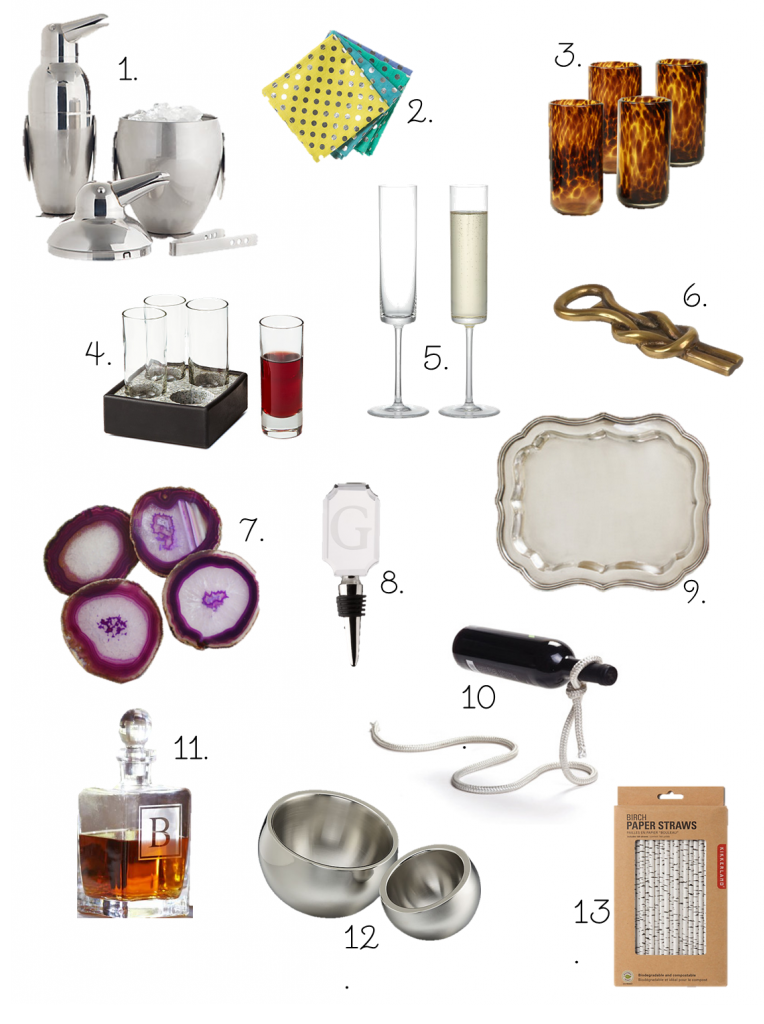 1. Cocktail shaker and ice bucket.
Self-explanatory. Another glam option
here
.
2. Cocktail napkins.
Your furniture will thank you.
3. Barware.
Other options
here
,
here
and
here
.
4. Shot glasses.
Because you know how to keep the party going. Party hardy
here
and
here
.
5. Stemware.
Other favorites
here
and
here
.
6. Bottle opener.
The more unique, the better. I particularly love
this
one.
7. Coasters.
I also love
these
,
these
and
these
.
8. Wine stopper.
Other impressive pieces
here
and here.
9. Drink tray.
More
here
,
here
and
here
.
10. Wine bottle holder.
To impress your guests. I have 2 of
these
in my own home!
11. Decanters.
Read about the difference between a carafe and decanter
here
. Who knew? Not me.
12. Snack bowls.
Because a hungry guest is an grumpy guest. More
here
and
here
.
13. Straws.
More fun
here
and
here
.
And a delicious winter drink that will warm your tootsies up..
Happy holidays! How do you celebrate the season? What's your favorite holiday libation? I'd love to hear!
xoxo
Chels